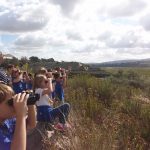 Our nature walks provide a variety of ways to learn about the Bay and experience the sights and sounds of nature – all for FREE. Unless noted, call 949-923-2269 to RSVP. For most walks, they are two hours so make sure to bring appropriate footwear, sunscreen and binoculars if you have them!
Explore the Bay Family Hike
Meet other families at the Peter and Mary Muth Center's patio a the third Saturday of each month for an easy hike for all ages to learn more about the Bay and enjoy the trails around it. The hike is only an hour — depending on the weather and will be on both paved and dirt trails. No formal program, as it's a great introduction to the Bay and a Naturalist will talk about whatever you discover along the way.
Big Canyon Bird Walk
For those of you who are interested in a more intense bird-watching experience and the possibility of seeing something rare, one of our bird experts offers a 2 -3 hour outing at Big Canyon on the last Sunday of the month (except in December). All species documented on eBird.org. Suitable for beginners and advanced birders.
Shellmaker Discovery Tour 

Join the California Department of Fish & Wildlife Naturalist to learn about Shellmaker Island's rich history and discover unusual and endangered plants, birds and crab habitats. RSVP to 949-640-9956 or Kathleen.sheridan@wildlife.ca.gov. Saturdays, February 3rd, March 17th, April 14th, May 19th, June 16th, July 14th, August 18th, September 8th, October 13th, November 10th, and December 15th.
Have a group of over 10 people and would like a guided hike with a specific theme? If given a ample notice, we can pair you up with a Volunteer Naturalist to host. Each have a different specialties and an appreciation for nature they share. Send us an email info@newportbay.org with the group's information, possible day(s), time, and interest and we'll see what we can do! Donations encouraged so we can continue developing the next generation of Naturalists.
For links to walking tours and other activities within our watershed, visit www.letsgooutside.org.