Learn about the habitat restoration project to restore native vegetation to the Upper and Lower Bayview slopes. Project planning and design by the Newport Bay Conservancy (NBC) with habitat restoration being completed by Endemic Environmental Services Inc., NBC volunteers and California Conservation Corps. This project is made possible by grants from the US Fish and Wildlife Services, Southern California Wetlands Recovery Project, REI and NBC. This project is approved by the California Coastal Commission and authorized by CDFW, OC Parks, City of Newport Beach and the California Coastal Commission.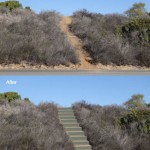 Additional News Articles
---
DID YOU KNOW? The Upper Newport Bay is home to over 30,000 birds on any given day in the wintertime.  Over 200 different bird species call the UNB their home including some endangered birds like the light-footed clapper rail or California least tern.  See them up close and personal during a Naturalist-guided kayak tour.  Only $25/person and included the rental of the equipment.  For more information click here.