Saturday September 20, 2014
9 a.m. to Noon
Upper Newport Bay
Reservations/Information: 949-923-2290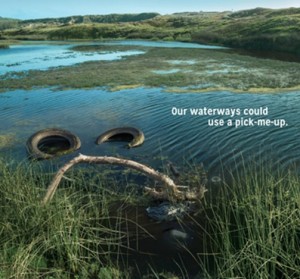 Please join the over 60,000 Californians as we come together to clean up our state's beaches and waterways on Coastal Cleanup Day.  Over 1,000 families, friends, coworkers, scout groups, school groups come together locally at the Upper Newport Bay to remove in excess of 15,000 lbs. trash and recyclables each year so it doesn't end up in our ocean.
California's Coastal Cleanup Day was started in 1985 by the California Coastal Commission, and over 8 million pounds of trash and debris have been removed from the state's beaches and waterways. One of the main goals of Coastal Cleanup Day, aside from removing trash, is educating the public about the garbage that ends up on the beach.
Most of the trash actually comes from inland communities, and gets carried to the coast through storm drains. The Upper Newport Bay watershed (the network of storm drains, rivers, creeks, and canals that all flow into the bay) covers 154 square miles, and encompasses the communities of Newport Beach, Irvine, Tustin, Orange, Lake Forest, Laguna Hills, Costa Mesa, and Santa Ana. More…
Additional News Articles
---
Don't forget to order your rain barrels before Coastal Cleanup Day!  Only $10 after rebate.  Purchases must be made by Sept 17th at www.RainBarrelsIntl.com.  For informational flyer, click here. Collecting and re-using rainwater from gutters and downspouts for lawns and gardens minimizes the amount of water flowing into your storm drains, sewer systems and local waterways. Plants and microbes prefer rainwater because it is naturally "soft" and free of chlorine, fluoride and other chemicals.