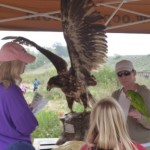 The Newport Bay Conservancy (NBC) is presenting the 24th annual Earth Day at the Bay on Saturday, April 26th.  This is a neighborly event that is fun for the entire family.  The event takes place at the Peter and Mary Muth Interpretive Center within the Orange County Park's Upper Newport Bay Nature Preserve.  The address is 2301 University Dr. Newport Beach (at Irvine Ave. across from the YMCA).  The event runs from 10:00 a.m. until 3:00 p.m. and is free.  Food will be available for purchase from The Burnt Truck, Tamarindo and Front Porch Pops.
Earth Day is a time when we can all reflect on the importance of our natural surroundings and how we can preserve and protect them.  This Earth Day event features many exhibits and booths designed to help us connect with the natural world and help preserve it for future generations.
The exhibitors include environmental organizations like Sea and Sage Audubon, the Environmental Nature Center, the American Cetacean Society and many more.  The Orange County Bird of Prey organization will display live raptors and demonstrate their importance to the ecology of the area.   The California Coastal Commission will display and offer for sale plants native to the Orange County area.   There will be several children's arts and crafts activity booths including Inside the Outdoors.  Live music will be part of the entertainment.
There will be a scavenger hunt where families can visit several booths and get an answer to a nature question.  Those who complete the hunt will be awarded a small prize and be entered into a drawing for more prizes.   There will also be an Opportunity Drawing for great prizes from local merchants.
Additional News Articles
---
Watch us on:
Read about us under "Day trip: Upper Newport Bay" in the April 2010 edition of SunsetMagazine – and remember that any time is a great time to kayak or hike Newport Beach's Back Bay.