NBC has a small, but capable staff that works collaboratively with our volunteers, our Board of Directors and our partners at the Bay.
Heather Cieslak – Operations Director
heather.cieslak@newportbay.org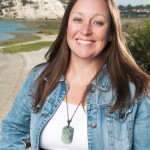 Heather Cieslak grew up in Illinois and moved to California after graduating from Northern Illinois University with a BA in Marketing. Previously, Heather was the Finance and Operations Manager with Amigos de los Rios, a nonprofit committed to protecting and restoring open space in urban environments, specifically in East LA County. Prior to that, Heather spent a number of years as Associate Director with National Assistance League, responsible for marketing, fundraising and administration to support their 125 chapters nationwide. Also while at NAL, she pursued her MPA in Nonprofit Organizational Management from California State University Northridge.  As Operations Director, Heather ensures our programs and activities are part of an overall annual plan and supporting budget, that they are well-managed, and that we are actively marketing and communicating our mission and activities to our community.
Adelle Bennett – Volunteer Coordinator
adelle.bennett@newportbay.org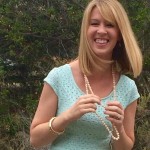 Adelle has lived in Southern California her whole life, spending her childhood in a small, rural town on the outskirts of San Diego County. Her passion for the environment started early, playing outside and spending summers in the California and Oregon wilderness, camping, hiking, and catching reptiles. Adelle moved to Orange County to attend Biola University, earning her Interdisciplinary Bachelor's Degree in Communication Studies and Business Management. She started working in a professional business setting, gaining a wide variety of coordination and communication abilities. Most recently as the Lead Project Coordinator at Allied Modular Building Systems, she fine-tuned her project management skills and managed 50-100 projects at any given time. In 2015, Adelle decided to take her professional skills to the non-profit world and focus them towards an ecological cause. As the Volunteer Coordinator, she's responsible for managing our 150+ volunteers, who play a critical role in serving and protecting our bay.
Carissa Macias – Program Coordinator
carissa.macias@newportbay.org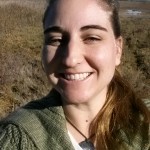 Originally from Ventura County, Carissa grew up with a passion for the outdoors and spent much time hiking and camping with her family as she still does today. Coming from a very environmentally minded family, Carissa was a part of school clubs like the "Kids Save the Earth Club" and the "Ecology Club" in elementary school which had a profound effect on how she viewed the environment and the importance of protecting wildlife and conserving natural resources. She attended Cal State Long Beach to graduate with her Bachelor of Science in Marine Biology. After graduating, Carissa went on to work for the California State Parks in Malibu and Carpinteria as a Park's Interpretive Specialist designing and leading Junior Ranger programs, nature walks, campfire programs, tide pool tours and special events. After relocating back to Long Beach in 2011, Carissa used her education and background to provide programs to Newport Landing Whale Watching and most recently for the Girl Scouts of Greater Los Angeles. Carissa, as Programs Coordinator, brings with her a diverse background in scientific and outdoor programming to coordinate our educational programs.