Outrigger Canoe/Land Program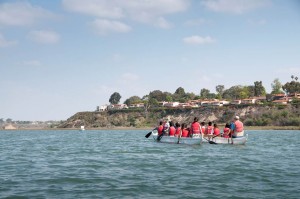 Upper Newport Bay is headquarters for the California Coastal Commission's statewide community-based Restoration-Education Program. Among the resources developed under the program's umbrella is the Our Wetlands, Our World High School Field Activities Guide. This high school level curriculum is structured to help local teachers meet required State Science Content Standards with activities that connect education with real life. The curriculum focuses on the history and ecology of Upper Newport Bay; the effects of urbanization and non-point source pollution, non-native invasions and loss of biodiversity; and the importance of community-based restoration and stewardship.
Newport Bay Conservancy uses activities from the guide as part of its Outrigger Canoe/Land Program.  NBC conducts this program out of the Newport Aquatic Center for high school and college students.  Students spend a couple hours on the water in an outrigger learning about the Bay and frequent winged visitors and a couple hours on land learning about plants and the different habitats of the Upper Newport Bay.  Last year, over 1,200 students from 18 different schools participated.

Explorer Post Program
The Newport Bay Conservancy also partners with OC Exploring/Learning for Life to host an after school Environmental/Explorer Post.  Students are able to participate in a program that gives them experience in different aspects of environmental education, restoration and research.  We partner with other agencies to provide opportunities for students to go "behind the scenes" at various facilities to gain knowledge about careers in the field.  Events held on selected Tuesday evenings and Saturdays.  Schedule for the Spring is below. Free. RSVP to info@newportbay.org. For flyer, click here.
Tuesday, May 17
w/Molly Stallcup
Park Ranger, Orange County Parks
6:30-8 p.m.
Learn how Orange County Parks maintains over 60,000 acres of open space for our use and what it takes to be a Park Ranger.
Saturday, May 21
Tidepool Docents
2-4 p.m.
Students with City of Newport Beach's Marine Education staff will participate in intertidal monitoring with transects, MPA monitoring for human use, and environmental interpretation for the public.
Tuesday, May 31
w/Michelle Clemente
Natural Resource Supervisor, City of Newport Beach
6:30-8 p.m.
Learn what it takes the City of Newport Beach oversee the use of it's 79 parks, beaches, marine habitats and recreational facilities while coordinating recreational and social opportunities to the environment.
Saturday, June 4
Marine Life Inventory
8:15-12:30 p.m.
Students will help with California Department of Fish & Wildlife staff conduct their monthly marine life inventory.
Tuesday, June 14
w/Michelle Tollett
Senior Biologist
6:30-8 p.m.
Learn what it takes to become a consultant in the field of ecology – understanding environmental impact, compliance, mitigation, and protecting our natural resources.
Saturday, June 18
ROOTS Restoration
9:00-12:00 p.m.
Students will help California Coastal Commission Community-Based Education and Restoration staff conduct habitat restoration in Newport Valley.