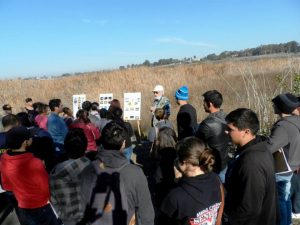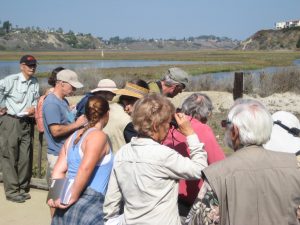 Many organizations proclaim that their people are their greatest asset. For NBC this is resoundingly true. Our passionate and talented Naturalists have contributed well over 120,000 hours of volunteer service at Upper Newport Bay working in partnership with all the land owners. We are grateful for the enthusiasm and commitment of our roughly 200 active volunteers.
About every other month we do a Training/Orientation that explores the many ways to get involved. The opportunities are endless; from helping with kayak and outrigger tours, staffing the interpretive center, helping with special events, assisting with restoration projects and leading school groups. Once you complete this one day training course, you will be eligible to attend a 11-week Naturalist training course about the ecology of the Bay which will begins each fall.
Next Training Date:
Saturday, May 13, 2017
Peter and Mary Muth Interpretive Center Library
8:00 a.m. to 1:00 p.m.
RSVP on EVENTBRITE.com
Naturalists Nights:
Thursday, May 11, 2017
"Natural Storyteller" with Chris Epting:
We're all touched and inspired by nature in some way. But how often do we actually document the stories that nature presents to us? Award-winning journalist/photographer and author of 28 books, Chris Epting will present some favorite images in nature he has shot around the world, from Antarctica to the North Pole to right here in Orange County. He'll share the stories behind the photos, and discuss why he feels it's important to help protect and preserve nature by documenting your own stories and observations. As part of the evening's presentation he will also lead a writing exercise with everyone in attendance to help unlock your own 'natural" storytelling talents.
Peter and Mary Muth Interpretive Center Library
6:30 p.m. Reception
7-9:00 p.m. Speaker(s)
Thursday evenings are open to all volunteers and friends. For a more information contact, our Volunteer Coordinator, Adelle Bennett at 949-923-2296 or adelle.bennett@newportbay.org.
Find out more about volunteer opportunities.