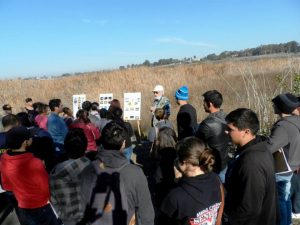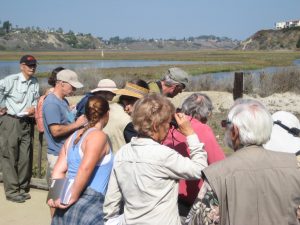 Many organizations proclaim that their people are their greatest asset. For NBC this is resoundingly true. Our passionate and talented Naturalists have contributed well over 120,000 hours of volunteer service at Upper Newport Bay working in partnership with all the land owners. We are grateful for the enthusiasm and commitment of our roughly 200 active volunteers.
About every other month we do a Training/Orientation that explores the many ways to get involved. The opportunities are endless; from helping with kayak and outrigger tours, staffing the interpretive center, helping with special events, assisting with restoration projects and leading school groups. Once you complete this one day training course, you will be eligible to attend a 11-week Naturalist training course about the ecology of the Bay which will begins each fall.
Next Training Date:
Saturday, May 19, 2018
9 a.m. – 2 p.m.
Peter and Mary Muth Center's Library
RSVP via EVENTBRITE
Naturalist Nights
Held on the selected Thursdays of each month from January through August, Newport Bay Conservancy volunteers and friends get together to network and learn about items effecting the bay. No reservations are needed; free and open to all.
For a more information contact, our Assistant Coordinator, Hilary Cunningham at 949-923-2296 or hilary.cunningham@newportbay.org.
Find out more about volunteer opportunities.