Our Board of Directors volunteer their time and expertise thought the year to uphold the mission of the Newport Bay Conservancy and strategically directs the organization to fill that charge. Board Members are elected to serve two year terms and can be elected for a subsequent term. The Conservancy is always looking for passionate folks to sit on the Board. For more information on how you can become a Board Member, click here.
The Board meets on the 3rd Wednesday of every month (except February). The Public is welcome to attend. Please give us a call at 949-640-1751 for detailed directions.
Peter Bryant, President
peter.bryant@newportbay.org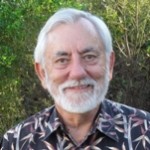 Peter Bryant's interest and passion are in documenting, monitoring and preserving local biodiversity and ecosystems. He has been teaching Biodiversity and Conservation for 20 years at UCI, and now participates in the First-year Integrated Program in Environmental Science. Peter specializes in photographing invertebrates, especially the more difficult ones including the smallest insects as well as various marine and aquatic species. He has a Masters' degree in Biochemistry and a Ph.D. in Genetics, and he is now participating in an international effort to catalog biodiversity using DNA-based methods. His main contribution to recent NBC activities has been to establish a Research Committee which has organized both quarterly Research Workshops and an Annual Symposium.
Elizabeth Flint, Vice President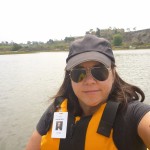 Elizabeth Flint's professional background is in law, government and politics. She has worked on planning, land use, and environmental issues in California, Australia and New Zealand and as a political aide in the U.S. Congress. Liz has a law degree from UC Davis and a BA in Political Science from UC Santa Barbara. A third generation Californian, Liz enjoys just about any activity that involves the outdoors – especially paddleboarding and kayaking at UNB and hiking local trails. Liz graduated from NBC's naturalist course in 2014 and sometimes you'll see her out on Friends Tours, sharing information about the local geology of the area. Liz also is a member of our Advocacy Committee.
Randall English, Secretary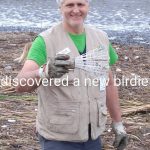 Randall English heads up the IT operations at Schneider Electric. In addition to his IT responsibilities, he oversees the company's philantropic endeavors. He has participated with employees from Schneider Electric on restoration activities in and around the Bay. Randall is an avid outdoorsman and brings a wealth of enthusiasm for environmental issues to the Board. Besides acting as the Board's Secretary, Randall also sits on the Restoration Committee.
Donna Flower, Treasurer

Donna Flower is a self-employed accountant/financial consultant.  She holds a BS in Business Administration/Accounting from CSU Long Beach and a BS in Social Ecology/Environmental Health and Quality from UCI.  She has extensive experience in financial management, budgeting, forecasting, and development of policies and procedures.  Donna has been associated with the Upper Newport Bay since the 1970s when she met Frank Robinson and joined the Friends of Newport Bay.  She has volunteered at the Bay since the 1990s. She was elected to the Board of Directors and served as Treasurer through 2005.  She served as an independent contractor/ accountant to NBNF through 2010.  Donna has volunteered in many different areas at the bay including scout programs, school tours, and gift shop merchandising.
Tim Brown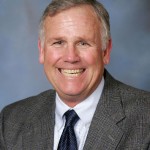 For the past 28 years, Dr. Tim Brown has demonstrated his interest in civic leadership and commitment to the City of Newport Beach through a number of endeavors. Dr. Brown is currently as a Planning Commissioner for the City of Newport Beach. Prior to that Dr. Brown served on the Parks, Beaches and Recreation Commission for the city of Newport Beach for two terms beginning in 2006. Prior to his service on the Parks Beaches and Recreation Commission, Dr. Brown was a member of the Newport Beach Aviation Committee. Since 1999, Dr. Brown has been a resident member of the Newport Beach Chamber of Commerce, served Vocational Service Chair of the Newport Beach Sunrise Rotary Club. Dr. Brown has also been instrumental in the formation of the NPO which operates the Lobsterfest. At NBC, Tim chairs the Board Development and Education Committees.
Frances Cork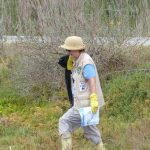 frances.cork@newportbay.org
Frances Cork brings her experience in education and human resource management in the UK as well as 25 years' volunteer experience in UK community and conservation organizations to NBC's Board. She has been a charity trustee and committee member on some major village projects in the UK, setting up a community center, managing two Village Appraisals and serving 10 years as an elected local government councilor with special interest in conservation and planning. Frances moved to Newport Beach in 2006 to join Howard when their youngest child went to university. She has been a dedicated volunteer with NBC for 10 years and completed the Naturalist training in 2009. She has an honors degree in Sociology, high school teaching credentials and is a UK qualified HR professional. Frances has always been a passionate lover of nature and a strong believer in communities taking an active role in their local environment. As a Board member, Frances focuses on fundraising, outreach and habitat restoration.
Molly Stallcup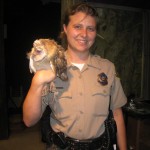 molly.stallcup@ocparks.com
Molly Stallcup currently serves as the OC Parks representative on the NBC Board. She has been a Park Ranger with OC Parks since 2008. Her work has covered a wide range of duties included leading hikes and talks, restoration, maintenance, resource management, and emergency response at O'Neil Regional Park, Laguna Coast Wilderness Park, South Beaches and currently Back Bay. Molly is passionate about connecting people to the wilderness. Molly has a BA in Anthropology from CSULB, is an NAI Certified Interpretive Guide, and graduated from the Orange County Park Ranger Academy.
Ian Swift
Ian is the Natural Resources Manager for the Irvine Ranch Water District in Irvine.  As the Senior Biologist, he oversees maintenance of the San Joaquin Marsh and all of the Natural Treatment System (NTS) sites. The San Joaquin Marsh encompasses more than 300 acres of coastal freshwater wetlands, half of which have been restored to a natural state. Ian also coordinates the District's wetlands operation with state and federal regulatory agencies and coordinates with county vector control. Prior to IRWD, he was the Watershed Biologist at the Los Vaqueros Reservoir, a drinking water, recreational and educational facility owned by the Contra Costa Water District and he spent eight years as a natural areas supervisor with the Los Angeles County Department of Parks and Recreation. Additionally, he has traveled all over Central and South America hiking and studying insects.  Ian will be responsible for keeping our Board and members informed on activities and events in the Newport Bay watershed that have impacts on the Bay.
Pam Winkler is currently the Chief Operating Officer at Davis Partners for the past twenty years. As Chief Operating Officer, Pam oversees all accounting and client reporting, company administration and IT systems. She's been a Volunteer Naturalist with Newport Bay Conservancy since 2009 and has volunteered many hours at the Peter and Mary Muth Center while aiding in the reconciliation the sales from the gift shop. She brings accounting experience to the Board as well as a keen interest in updating educational elements around the Bay. She sits on the Finance and Education Committees.
Dick Zembal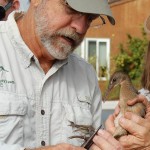 Dick Zembal is currently the Natural Resources Director for the Orange County Water District.  He is also a part-time faculty member of Saddleback College and has an Endangered Species Recovery and Wetland Restoration business.  He holds a BS from Loyola University of LA and an MS in Biology from CSU Long Beach.  Previously he worked for 20 years as a Biologist for the US Fish and Wildlife Service.  He has studied and managed the Light-footed Clapper Rail population since 1979.  He has extensive experience in wildlife inventory, survey and management, particularly with regard to endangered species.  He has studied the Upper Newport Bay habitat and populations of Clapper Rails, Salt Marsh Bird's Beak, Belding's Savannah Sparrows, Least Terns and California Gnatcatchers since 1979.  He has participated in docent training and leading tours at Upper Newport Bay since the 1990s.  His primary interest is in sound management of the bay.